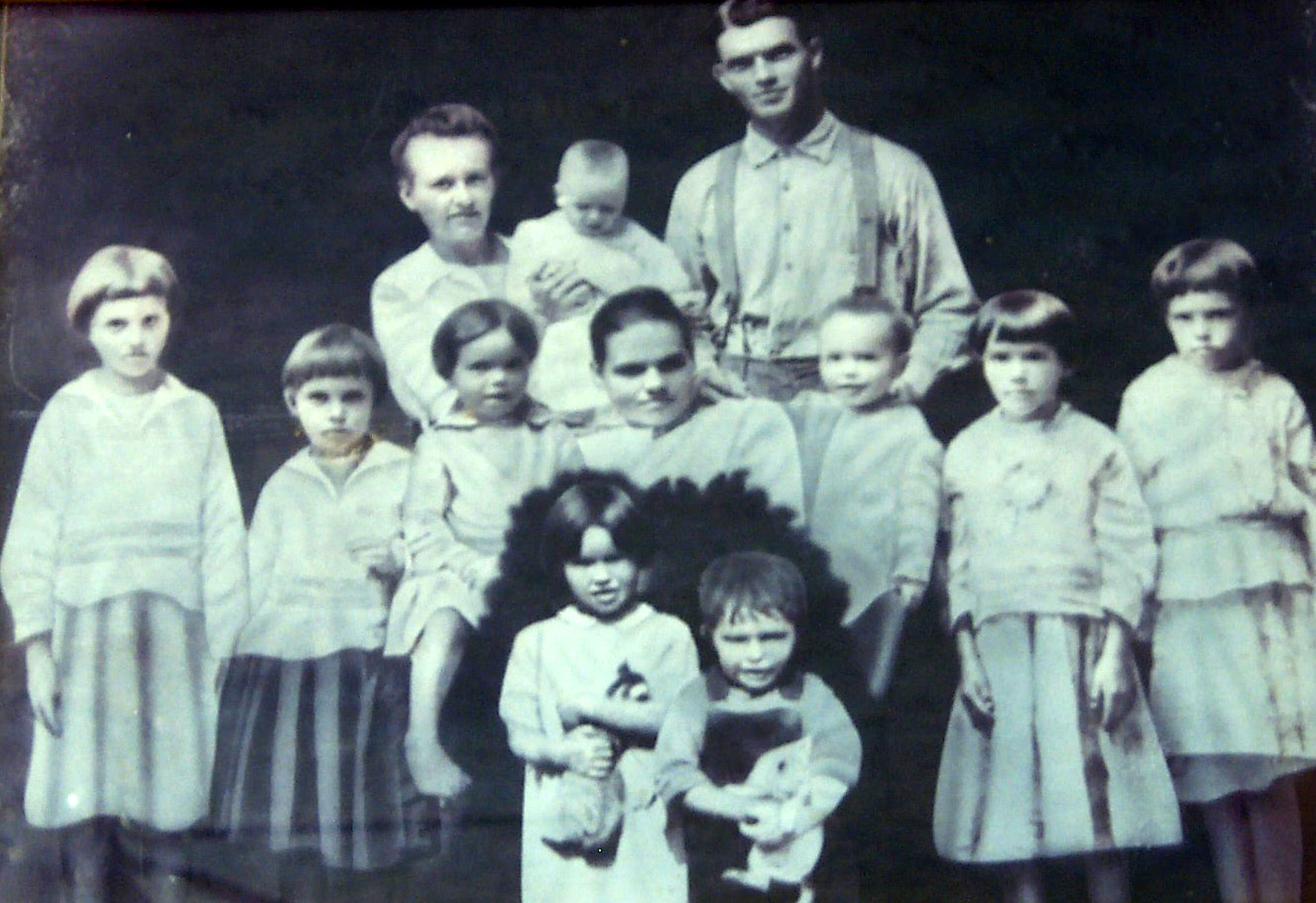 George and Fannie Mae with their children when they were young. I don't have the identities in this photo except for Fannie Mae and George, at rear, and Pearl Grace, second from right, plus the two younger children in front, both still living (their photos were added later). In the photo at the end of the article below, the children are older and identified. This photo was made about 1925.

Some remarkable women

George William Buttrum and Fannie Mae Carnes had nine children. Two of their girls, Annie M. and Pearl Grace, married Hall brothers, Jim and Robert Jasper. I knew Fannie Mae and some of their children, but I never met George W. This information is taken from my mother's records and the census records. According to my mother, they were all born in Adairsville, Bartow County, Georgia, except the two youngest, still living, who were born in Floyd County.

1. Annie M. (Margaret?) Buttrum was born 29 September 1912 but I do not know when she died. She was married to James G. "Jim" Hall, who was born in 1902 in either Pickens or Gordon County. I met Annie, who lived to be very old, but I don't remember ever meeting Jim. He is the older brother to Robert Jasper Hall, my grandfather.

In the 1930 census, Jim and Annie appear together for the first time in the Lily Pond district. The household includes Jim (James) Hall and Annie Buttrum, 17, plus John 7, a daughter 20 months, still living (the script looks like 1-8/12), and a son who may still be living, 4 months(? The script is hard to read), Lee and Rachel Webb, and Robert "H." Hall, 25, my grandfather. Rachel is Bob Hall's older sister.

Annie and Jim had a son named Virgil, who was born in Plainville July 19, 1935. According to his obituary, he worked for the Bartow County Sanitation Department and attended Towe's Chapel Church of God. His wife was Margaret Janell Roland Hall, who died 18 May 1988. They had six children: Virgil, John J., Roy, Raymond, and Melvin, all deceased as of the time of his death 1 November 2004, a son still living, and a daughter still living, who married a Redd.

I knew a number of these Halls, including Virgil, Roy, and Melvin, and I met the living daughter who married a Redd.
As I remember it, Melvin and some of the others were "chicken catchers" at one time, a tough and brutal job. They would go into chicken houses at night and catch chickens, load them into the cages, and put them on trucks for shipment to the processing plants. These were big, fat, White Leghorn chickens, which meant they were heavy, although they were relatively easy to catch because they were asleep. The catcher would slide his hand under the chicken, get one leg between one of his or fingers, and clamp on it, then turn the chicken upside down. The bad part was that a good catcher caught eight chickens at a time, four in each hand. The chickens, meanwhile, would sometimes peck and claw, their claws could cut, and constantly grabbing the rough hide of a chicken's leg between their fingers gave the catchers these grotesque callouses. Plus they worked from sundown to sunrise, in dusty, stinky houses full of chickens and their droppings. Not something that looks good on a resume.

I remember Melvin being intense, but the one I remember most was Roy. His wife was named Sadie, and they were quite a pair. As far as I know, Roy never held a job because he was disabled in some way and as, a result they were as poor as poor gets. They lived in a house on Mostellers Mill Road just down from its intersection with Pleasant Valley Road, in "Hallville." The house was uninsulated; in fact, it had no interior walls that I remember, except where cardboard had been nailed up to cover the cracks. They heated the shack with a wood or coal stove, and inside it was dim, smoky, and, in the winter, cold. Sadie was a chain-smoker. They had several children whose names I don't remember, but what was most striking to me was Sadie. She looked like an old woman, and was toothless by the time she was 30. She died just a few years ago, according to my uncle Charles.

I also remember selling one of the Halls, I think Roy's son, a 1955 Ford that I owned when I was a kid in the mid-60s. The next time I saw it, which was in Roy and Sadie's yard, the fenders, hood, and trunk lid had been removed. They had made it into a jalopy. (By the way, I also remember the remains of an old, old truck sitting in the pasture across the road from their house in the 60s. It looked like it might have been an A-Model Ford, but all that was left was the "bucket" shell around where the seats go, some of the front end, and the rear frame. My uncle said someone bought it).

I also remember staying with Roy and Sadie one night when I was about 12-14-years-old. They were living in a house later occupied by Uncle Joe Bunch, who married Mamie, below. The house sat on Mostellers Mill Road north of Pleasant Valley. It was a cold night and I remember Roy calling to me from the other room. He said I could come and sleep with them if I was cold. I declined. I was too embarrassed to sleep in a bed with other people.

There is a death certificate for a Roy Hall, 49, died 30 November 1983 in Bartow County.

Annie's oldest son was named John, born about 1923. Annie's birthday was 29 September 1912, so if John is her son as the census says, she got pregnant when she was 9! If he is not her child, who is he? Or is his age simply listed wrong, which is not uncommon in the census records? However, there are two death certificates in the records for John Halls that suggest the age is correct:
•John W. Hall, died 31 July 1981 at age 59 (born about 1922). He died in Floyd County, but was a resident of Gordon. The death certificate no. is 032333.
•John J. Hall, died 26 Oct 1987 at age 65 (born about 1922). He died in Bartow County, and was a resident of Bartow County. His death certificate no. is 037948 .

2. Mamie F. Buttrum was born 11 September 1913. She was known as "Aunt Mamie." She married Lewis Campbell, brother of Emozar Haywood Campbell. Emozar married Lula Bell Hall, the sister of Bob Hall, my grandfather. Bob married Pearl Grace Buttrum, Mamie's sister. Small world, huh? According to the 1930 census, Mamie and Lewis were married after 11 September 1913 because Mamie's age is listed as 16, and her age when she first married is also 16. Although family records do not give a hint, their two known children, Lois L. Campbell, born 1922, and Robert J., born between 1923 and 1930 (the census is illegible, but may be 1924), must have been from a previous marriage. Lewis was born in 1895, and his age at the time of his first marriage is 24, which would have been 1920.

I believe Robert J. is "Jack" Campbell, who died of a heatstroke from water skiing on Lake Allatoona. I think it was in the 1970s. His wife was named Mary. We visited them several times when I was a child. At one point they lived south of Griffin, perhaps near Forsyth. Jack had a collection of porno magazines which were pretty tame by today's standards, but very enlightening to me at the time.

I wonder if Robert J. was Robert Jasper, and named for my grandfather? Lewis and Mamie were living near him in 1830 on Trimble Hollow Road in the Lily Pond District of Gordon County.

Mamie took care of a grandchild, a girl who had a severe physical issues, apparently genetic. I can remember her saying only one word, "papa-da" (the da would trail off). She did not live to be very old I think.

I remember Aunt Mamie as a quiet sort. She was extremely patient with her grandchild. They lived near Calhoun for many years.

3. Pearl Grace Buttrum, born 9 November 1914, and died 1 July 1947 at the age of 33. She is my grandmother and wife of Robert Jasper Hall. For more on them, see "The Smith-Hall Nexus."

4. Rosa Lee Buttrum, born 3 June 1916, and died about 2005. She married "Uncle" Joe Bunch 14 January 1930. They were married by Will Turner of Rome, in a double wedding with Bob and Pearl, above, according to my aunt and they had at least one child, a daughter, still living. Her name has been spelled Rosalie and Rosa Lu in the census, but my aunt says it was Rosa Lee.

She was one of the absolutely funniest people I have ever known, and a joy to be around. At my mother's funeral in 2003, when she was about 87 years old, there were these two incidents:

—My brother-in-law saw Rosa Lee sitting behind her walker in the Max Brannon Funeral Home in Calhoun and said, "That's a nice walker. I think I'll borrow it some time."

She replied, with a twinkle in her eye, "If you do, you'll need it."

—In the Resaca Church of God, while waiting for the funeral service to begin, I turned to Rosa Lee from the row in front of her because she had on this cute white spring hat. "That's a beautiful hat you've got on Rosa Lee," I said.

"Thank you," she replied with a smile. "I'll let you wear it some time."

Then her daughter whispered in her ear, and she turned back to me.

"My daughter said I never let anyone wear my hats."

"Well," I said, "that's probably not the first lie you've ever told."

She broke up.

Her husband, Uncle Joe, was, in his old age, a cute little man who always wore overalls, and like his wife, had a great sense of humor. At one point they lived in a little residential area behind the Calhoun Times office, between the parkway that connects Sugar Valley Road to Red Bud Road, and Highway 41. They lived in a little house across from where an old friend of mine's parents lived, on Gordon Street. I can still see Uncle Joe standing on his little front porch in his blue overalls and white, long-sleeve shirt, with a snow white beard nearly down to his waist, and right down the middle of the beard, a yellow stain from dipping snuff.

My uncle told me that one year Joe's corn crop did not do well. Someone stopped by his house and commented on it.

"You're corn is looking a little short and brown this year, ain't it Joe?"

Joe replied, "That's what I'm raising: short, brown corn."

Of course, that's an old vaudeville joke, but I have no doubt Joe might have used it.

For many years, Joe and Rosa Lee lived in a house on Mosteller's Mill Road just a mile or two south of Dry Creek. The house sat in a small S-curve on the left. My recollection is that other Halls lived in that house at one time or another, also.

Once, I helped my uncles Bud, Charles, and one still living load a cow into a pickup truck. Bud had been keeping the cow in Joe's pasture. Joe did not have any cattle, so the pasture had grown up with weeds, especially pokeberry plants near the barn. In order to get the truck backed up to the barn stall, my still living uncle had to back up a small rise filled with pokeberry bushes. Needless to say, the truck crushed them, and they were so filled with juice the tires slid around. Joe watched the truck for a while, then said:

"Don't go messing up my poke salad patch."

It was an expression of the same dry, subtle humor possessed by my grandfather.

5. A living daughter, born 3 July 1918. She is still living as of 2007, in Rome with her granddaughter and her husband, although she is in the last stages of Alzheimer's Disease.

6. Elisha Wilson, born 20 July 1920. He was known as "Lissee [Lie-sea]" and is listed as Lisee William in the 1930 census. I don't know anything else about him.

7. George Edward, born 8 May 1822. I don't know anything else about him either.

8. A living daughter, born 14 September 1924 in Rome. She is the source of much of my information on the Buttrums and Halls.

9. A son, still living, born 7 June 1926.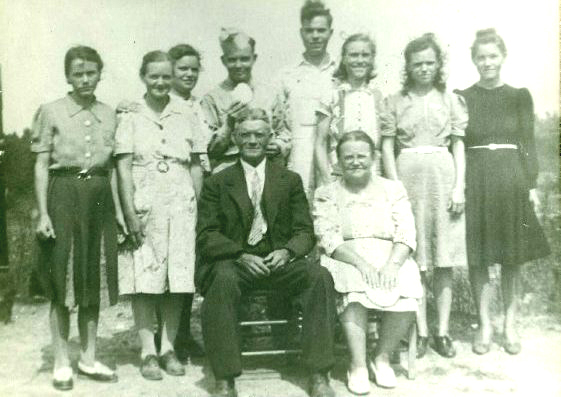 The Buttrums. This photo was made 1944-45. On the front row are George W. Buttrum and Fannie Mae Carnes. Second row: Pearl Grace, Annie, Rosa Lee, Mamie, and a child still living. Back row: a daughter and a son still living, and Lissee.